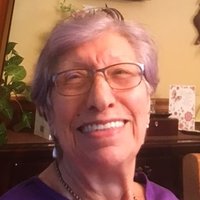 Maria Anna Balestrieri
Maria Anna Balestrieri, 87, passed away peacefully on Thursday, November 2, 2017, at Manor Care, Yardley, PA.

Born in Barano d'Ischia, Italy to Luigi and Cataldina, Maria Anna immigrated to the United States after marrying Sebastiano and settled in Princeton, NJ where she became employed at Wampole/Princeton Laboratories working until her retirement from Carter Wallace.

First and foremost Maria Anna cherished her family. As an avid cook, she especially looked forward to preparing delicious meals for holiday gatherings. Her love of family and friends, infectious smile, laugh and happy spirit made everyone who knew her love her.

Maria Anna was also extremely devoted to her dear Lord to whom she prayed daily by reciting the Rosary, reading the Bible and attending mass at St. Paul's Church. She also spent quite a bit of her free time making rosary beads to share her love of God with the less fortunate.

Predeceased by her parents, husband Sebastiano, brothers Ralph, Dominick, John, and sister, Maria, she is survived by her daughters, Anna (Dale) and Rita, and son, Salvatore; sisters, Carmela (Anthony) and Filomena (Richard), and brother, Salvatore; her grandsons, Ryan and Tyler, as well as many nieces and nephews.

Family and friends are welcome to pay their respects on Tuesday, November 7, at Mather-Hodge Funeral Home between 6:00 and 9:00 p.m. A Mass of Christian Burial will be celebrated on Wednesday, November 8, at St. Paul's Church at 10:00 a.m. Interment will follow at Princeton Cemetery.

In lieu of flowers, donations may be made in Maria Anna's memory to Pontifico Santuario B.V. Del Rosario, Piazza Bartolo Longo I, 80045 Pompeii NA, Italia.