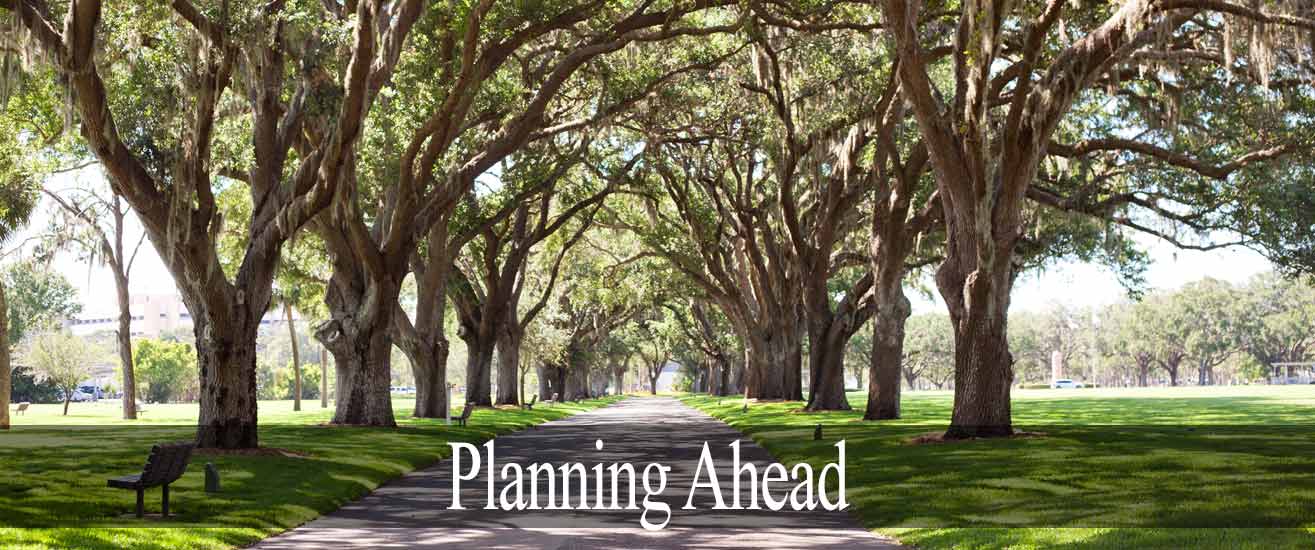 Advanced Planning
Advance funeral planning is referred to as "prearranging," "preplanning" or "preneed." It's a simple process that can take as little as an afternoon.

People who preplan can:
Choose a remembrance that reflects their personal wishes,
Provide funds to carry out their plan,
Better position themselves for Medicaid Eligibility, and
Offer guidance to family and friends who will need help with difficult decisions at a stressful time.
Through our Funeral Planning CHOICES program, the NJSFDA offers two prepaid funeral funding options available through participating funeral homes. They are: the New Jersey Prepaid Funeral Trust Fund, and Sure Trust Funeral Insurance Administration Trust.
Irrevocable vs. Revocable
Revocable Agreements:
Trust moneys in revocable accounts are 100 percent revocable upon demand, including all principal and interest. With a revocable agreement, you may change the funeral home and the selected funeral services or merchandise at any time without penalty. The New Jersey Prepaid Funeral Trust™ utilizes a standard Revocable Trust Agreement for all prearrangements.
Irrevocable Agreements:
In New Jersey, irrevocable agreements are required when creating a prepaid funeral account for SSI/Medicaid applicants and recipients. Irrevocable means that the trust fund moneys are NOT REFUNDABLE. Only individuals prepaying their funerals in order to qualify for SSI, Medicaid, or General Assistance may establish irrevocable arrangements, which must be used for funeral and burial purposes. Irrevocable prepaid funeral agreements cannot, by law, be cancelled or refunded (although consumers may change funeral homes). The New Jersey Prepaid Funeral Trust™ utilizes a standard Irrevocable Trust Agreement for all SSI/Medicaid and General Assistance prearrangements.
Irrevocable Agreements and Asset Recovery:
New Jersey has an Asset Recovery law in place. The legislation says that, once all funeral expenses have been paid, any moneys remaining in irrevocable trust accounts opened on or after February 27, 2000 or in newly issued insurance policies purchased on or after February 27, 2000 will be forwarded directly to the State of New Jersey. The law was put in place to help reimburse New Jersey a small portion of the money it spends each year on the SSI/Medicaid program.
SSI/Medicaid and Prepaid Funeral Arrangements
Supplemental Security Income (SSI), Medicaid and/or General Assistance programs in New Jersey permit individuals to set aside money in a prepaid funeral arrangement without the money being counted as a resource for program eligibility purposes. In addition, the money set aside for prearrangements is not subject to the "look back" requirement usually associated with becoming SSI/Medicaid eligible. This is called the "Prepaid Funeral Resource Exclusion."
If you or a family member expects to become SSI/Medicaid eligible within the next six months, you are permitted to establish a prepaid funeral arrangement. Prefunding your funeral will not affect your eligibility for assistance and, in most cases, makes good financial sense. What this means is that you will be able to plan and pay for the funeral of your choice BEFORE assets are used up for medical care and/or BEFORE assets are reduced to SSI/Medicaid eligibility levels.
Prearranging your funeral also allows you to arrange a funeral of your choice as long as:
The cost of the funeral is within reason.

The prepaid account is irrevocable, meaning the money cannot be refunded or used for any purpose other than funeral costs.
Getting Started:
When you are ready to preplan, we recommend contacting a funeral home that participates in the New Jersey Prepaid Funeral Trust Fund™, also referred to as CHOICES. Participating funeral directors can provide you with up-to-date information on prearranging funerals. CHOICES programs meet all SSI, Medicaid and General Assistance rules and regulations. In general, families are encouraged to be "reasonable" when making irrevocable preneed arrangements so as to not jeopardize their eligibility status.
Eligibility:
While New Jersey consumer protection laws give families the right to adjust funeral arrangements at the time of death, families and funeral directors should seek to follow the original arrangements whenever possible since the prearrangements were made for persons receiving public assistance. That means that changes should not be made merely to use unspent funds.
To learn more about eligibility requirements, limitations and guidelines on SSI/Medicaid or General Assistance, contact your local funeral director, county's social services office, a social worker at a local nursing home or an elder law attorney.
Asset Recovery:
According to New Jersey law (N.J.S.A. 2A:102-20), any moneys remaining in an irrevocable funeral trust or in an irrevocably assigned or newly issued life insurance policy after the final bill has been paid, shall be paid over to the State of New Jersey. This law was enacted to enable the state to recoup a small portion of the money it spends each year on the SSI/Medicaid and General Assistance programs. This law applies to all arrangements set up on or after February 27, 2000.